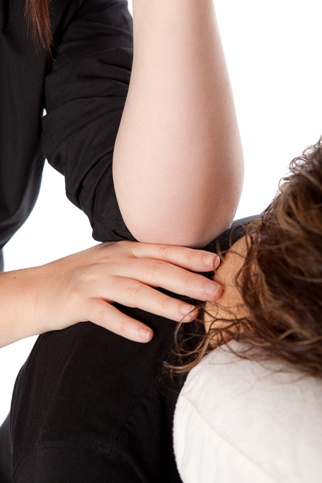 Chair Massage is a relaxation massage that is performed through the clothing, without oil in a portable ergonomically designed chair. The practitioners have been trained in a variety of massage techniques that enable them to target key tension areas such as the neck, shoulders, back and arms. Your chair massage session may be expanded to suit your personal requirements by focusing on specific trouble areas.
On site chair massage benefits us on many levels, physically, emotionally and psychologically. It helps to reduce the level of the stress hormone cortisol while increasing the endorphins our "feel good" hormones.

Benefits of On Site Chair Massage for the Employer
Improved Morale
Increased Motivation and Creativity
Increased Productivity
Increased Rates of Employee Retention
Decreased Absenteeism due to repetitive strain issues
Shows your Commitment to your Employees Health and Well-being
Healthy and Happy Employees
On-site massage benefits both employer and employee. With relaxed, healthy and happy employees the company will enjoy increased productivity, motivation and morale. Using Simply Relax On-Site Seated Massage for workplace massage is a win-win situation. To See How Onsite Massage Can Be Used at your event.

Benefits of Workplace Chair Massage for the Employee
Reduced Muscle Tension, Aches and Pains
Helps with Repetitive Strain issues
Decreased Stress level and Mental Fatigue
Fortifies the Immune System and Increases Circulation
Relaxed yet Revitalized helping to Increase your sense of Well-Being
Convenience of having the Chair Massage service brought to you
Feels Great

To experience these benefits of chair massage first hand give us a call at 778-386-6359 or send an email to info@simplyrelax.ca to inquire about availability.
We look forward to "Bringing Relaxation To You."